Breakthrough Accounting
Integrating with Xero, Breakthrough Accounting discusses how ProSpend completely transformed their spend management.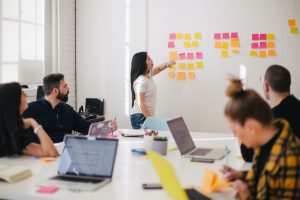 About Breakthrough Accounting
Breakthrough Accounting is a bespoke accounting firm on the Central Coast specialising in Not-for-Profit accounting, business accounting and virtual CFO services. This firm pride themselves on supporting organisations to achieve their breakthrough whilst providing end-to-end solutions that meet the organisation's specific needs. When Breakthrough Accounting suffered multiple pain points within their AP processes, fortunately Zac and the team discovered ProSpend (formerly expensemanager), Australia's leading spend management platform, which seamlessly integrated to their existing Xero system to completely revolutionise their entire accounts payable (AP) process.
---
The Pain Points
For Breakthrough Accounting, their client's success is a testimony to their experience, dedication, and passion towards delivering an unmatched service. Unfortunately, Breakthrough Accounting previously suffered multiple "Pain Points" that resulted in excessive time and resource constraints, hindering their next layer of success when it came to internal AP processes.
Manual paper processes

played a significant role in the pain points at Breakthrough Accounting, where staff would find themselves shuffling through paperwork to complete a simple task such as signing off invoices for payments. This resulted in excessive and tedious tasks, and also difficulties meeting painful storage requirements. When dealing with the issue of holding and storing this paperwork, this trickled into other issues including risk & security management, missing documents, and no digital copies of invoices.
Human/Administration

errors were another significant risk for Breakthrough Accounting. Staff would spend hours completing Administration work. With any human process comes the potential for errors, which would result in additional time spent on tasks to minimise risk of error.
Unintegrated software systems

were tried and tested to manage Breakthrough Accounting's expenditure. Not only were the total cost of these systems excessive, they increased the risk of errors and administration tasks.
---
Resolving the Pain Points
By removing paper processes,

Breakthrough Accounting have seen an immediate change in their day-to-day processes for both their staff and clients. Hours have been saved everyday by immediately locating required invoices without having to shuffle through storage rooms whilst also reducing the risk of any documents missing.


"By making our processes paper-free meant no more lost invoices or hours shuffling through paper. This allows us to boost our professionalism whilst increasing our productivity and allowing us to actually focus on our core roles."

Implementing AP automation

allowed Breakthrough Accounting to shift all their AP processes online. With the power of automation and enhanced features such as OCR, the team could automatically scan invoice data and supplier payment request would be automatically created. Furthermore, features including Automatic Duplicate Invoice Checks and Coding & Matching allowed Breakthrough Accounting to significantly reduce administrative bottlenecks. Approvers receive fully coded invoices and can approve invoices on any device, on the go, with multi-level approval workflows with policies customised directly to our company.


"By automating our accounts payable, we have reduced costs significantly and most importantly, we gained back up to 85% of time spent that we usually used up by undergoing manual, tedious processes such as checking for duplicate invoices. We have now completely transformed the way we manage our time, opening up more time for our clients."

By implementing a Complete Spend Platform,

ProSpend seamlessly integrates with Xero, meaning Breakthrough Accounting could finally remove the multiple different types of software that were used for spend management. From expenses that simplify business spend, right through to purchase orders that control spend and make the entire purchase process online, ProSpend allows Breakthrough Accounting to keep all AP processes simple to manage.


"With its seamless integration to Xero, expensemanager (now ProSpend) has significantly reduced the time and cost spent on processing and reconciling our expenses & invoices. A key benefit to us was the ability to process different expenses across multiple companies from the one system."
---
Integration to Xero
For Breakthrough Accounting, integration between software is crucial for healthy business operation. ProSpend (formerly expensemanager) is a certified listing on the Xero App marketplace, delivering enhanced features for Xero clients through its seamless integration, making Accounts Payable even easier.
Primary integration benefits that Breakthrough Accounting experience includes:
Links within Xero

that allow easy maneuvering between both systems, allowing managers to easily recall invoices and other important documents.
100% Cloud based software, meaning users, approvers and auditors can access the system anywhere, anytime.
Customisation

is crucial as all businesses operate differently. ProSpend gives the ability for Breakthrough to set up files to match Xero, from GL Accounts right through to Tax Codes.
User functionality enhancements

gives Breakthrough's users the ability to complete important functions including exporting multiple Xero files from the one ProSpend login.
Tracking enhancements

allowing all expenses to be easily tracked to relevant cost centres.
"Integration is particularly important for us and our business operations. Integrating our Xero system with expensemanager (now ProSpend) has opened crucial features and enhancements that we use daily, including tracking enhancements and ability to customise files. It is not just us that love this integration – even our external auditors love the system as they do not have to be onsite to perform Audit checks."
---
Additional Advantages
Hard dollars and hours saved with a positive

ROI since implementing ProSpend was highly evident for Breakthrough Accounting. Enhanced features such as AI Scanning and coding of invoices allowed Breakthrough to not only save hours per week but open more opportunities with clients.
100% Local with First-Class Support

was a significant aspect in the decision-making process for Breakthrough Accounting. The staff wanted to ensure that if they need assistance, from support through to development, it was readily available in local time, plus having any sensitive data stored in Australia was another reassurance that no other competitors were willing to provide.


"A major reason to go with expensemanager (now ProSpend) was that they are based here in Australia. Keeping client's data local offers essential peace of mind. However, local support readily available for us was crucial and has always been delivered well above our expectations. The support we have received is at the highest level that we've experienced from any software company. Even their development team is local and jumps in on calls when required."
Customisation

is crucial as business landscapes are continuously changing. For Breakthrough Accounting, customisation was not only important for their own processes but their clients. With a 100% local team, Breakthrough Accounting rested assure that any customisation request on the ProSpend platform would be comfortably accepted.
Staff & Client Satisfaction

is the number 1 priority at ProSpend. With the numerous benefits and advantages that is offered by the system, both the hard and soft benefits are easily evident.


"The beauty of working with a company that is local, is that they understand our business. All of our system requests have been delivered on time and customised to our needs. Amazing features such as AI Scanning and Expense Coding provides the ability for our employees to work across multiple clients at a time, giving us the opportunity to increase business. Overall, the cost savings are many, many times over the cost of expensemanager (now ProSpend). We don't just love it, our clients do to!".
---
Summary
As we can see, Zac & the team at Breakthrough Accounting have completely transformed their spend management with the help of Xero & ProSpend. Breakthrough Accounting has managed to resolve harsh pain points that were affecting multiple areas of the business, such as tedious manual processes, administration bottlenecks, and storage issues. Not only has this resolved common Pain Points – the integration between the platforms has offered further enhancements and features to the platforms that has made managing the entire Accounts Payable at Breakthrough Accounting simple and secure, just the way it should be.